Watch Video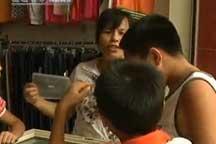 Play Video
Life is returning to normal for people living in Magui township of Gaozhou City in Guangdong Province. Although clean up work continues, villagers in the town's center are resuming daily life.
You Junmei's store is located along a commercial street that suffered only light damage during the storm.
About 15 centimeters of sludge entered into her store as mudslides hit the Magui Township on Tuesday.
However, after a day's work, the store was able to open again on Wednesday.
You Junmei says she wanted to re-open her store not only to make money, but to help local villagers.
The raincoats, boots, and candles in her store have sold out, but not at a profit for the store.
You Junmei, store owner of Magui Township, said, "For example, if the villagers don't have money to buy the umbrella, I would sell them at a discount, even if I end up with a loss."
On Friday, the first bank opened after the rainstorm. Because the communication network was not repaired, all service was done by hand.
Pang Ruihai, clerk of Rural Credit Cooperative of Gaozhou City, said, "We will write down the name, account number and sum. After checking them, we will perform the withdrawal service manually."
So far, eleven stores, eight clothes shops, and two drugstores have reopened in Magui Township.
Power in the town resumed on Saturday.
Related stories
Editor:Zhang Ning |Source: CNTV