Watch Video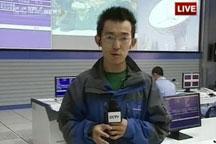 Play Video
For the latest on observations of Chang'e 2 from the northwestern Xinjiang Uyghur Autonomous Region, we are joined by our correspondent Wang Zirui. Hello, Zirui.
Q1: The Observatory has begun monitoring Chang'e 2. How's their work going there?
Q2: What exactly will the center be hoping to observe over the next few days?
Thank you, Zirui. That's our reporter Wang Zirui at the Observation station in Xinjiang.
China's lunar probe Chang'E-2 enters orbit
The probe entered the orbit with a perigee of 200 kilometers and apogee of 380-thousand kilometers as scheduled. <Full story>
China successfully launches Chang'e 2
China yesterday (Friday) launched the country's second unmanned lunar probe, Chang'e 2 from the Xichang Satellite Launch Center in Sichuan Province. <Full story>
Editor:Zhang Pengfei |Source: CNTV.CN