Watch Video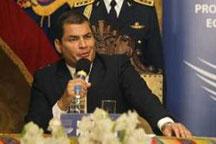 Play Video
Life is returning to normal across Ecuador, after a revolt on Thursday in which rebellious police held the president in a hospital building.
Rafael Correa called the police revolt a coup attempt and says those who participated will be punished.
Ecuador's police chief Freddy Martinez has stepped down. He handed in his resignation on Friday, after failing to stop the rebellion.
Thursday night saw a fierce fight in Quito, the capital of Ecuador.
Soldiers were rescuing President Rafael Correa from a hospital. He'd been trapped there most of the day by rebellious police who plunged the country into chaos in a protest over benefit cuts.
The operation lasted just over half an hour.
The next day, the minister of security announced the death toll.
Miguel Carvajal, Ecuadorian Minister of Security, said, "Five people dead. Between them, two military personnel. One member of the national police force who participated in the president's rescue. We have one young university student It is a terrible situation. It is a dark day for the country. We have declared national mourning. It is sad day that we hope will never happen again."
The president promised punishment for the rebels.
Rafael Correa, Ecuadorian President, said, "Of course, all the people we can identify will suffer the corresponding consequences. Here we will not forgive or forget. There will be no forgiving or forgetting. Forgive and forget at a social level looks a lot like impunity."
Police rose in anger after Congress passed a law cutting benefits. It would end the practice of giving soldiers and police medals and bonuses with each promotion, and extend promotion intervals.
Editor:Zhang Pengfei |Source: CNTV.CN