Watch Video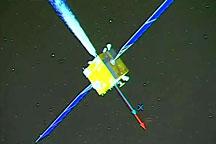 Play Video
The solar-powered probe carried by China's second lunar probe Chang'e-2 has begun working.
This marks the commencement of the lunar orbiter's scientific mission. And Chang'e-2 has sent its first batch of information from space. The first correction has also been made to its trajectory since the launch.
Scientists monitoring the journey of Chang'e-2 say data transmitted back indicate that the temperature, voltage and power readings are all within the normal range.
Chang'e-2 is carrying 7 solar-powered pieces of equipment. The equipment is responsible for surveying the environment between the earth and the moon.
The first batch of data was received on Saturday.
Su Yan, Designer, Ground Application System, said, "The main information we received included that of the monitoring pictures taken by the camera on Chang'e-2 of the solar panel, antenna and motors. "
Chang'e-2 went through its first correction to its trajectory 17 hours after its successful launch.
Here on the screen of Beijing Aerospace Command and Control Center, the green line is the principle trajectory and the red line is Change'e-2's actual trajectory.
It's the first time a Chinese lunar probe has directly entered an earth-moon transfer orbit without orbiting the earth first.
That requires a more accurate trajectory of the satellite. Timely correction would prevent it from deviating from its designed orbit.
Ma Yongping, Deputy Director, Beijing Aerospace Command & Control Center, said, "From the monitoring data we've got, we can say we have succeeded in the first correction of the satellite's trajectory."
Chang'e-2 is expected to travel for about 112 hours, or almost five days, to arrive in a lunar orbit.
The satellite will eventually be maneuvered into an orbit just 15 kilometers above the moon. At that point, Chang'e-2 will take high-resolution pictures of the moon's Bay of Rainbows area, the proposed landing ground for Chang'e-3.
Editor:Zhang Pengfei |Source: CNTV.CN