Watch Video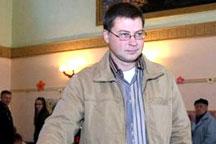 Play Video
Now let's move to Latvia, where Prime Minister Valdis Dombrovskis has won Saturday's election. That paves the way for the formation of a new majority coalition.
An exit poll and a partial count of election results showed that voters in Latvia have chosen Valdis Dombrovskis as their new prime minister.
It shows that the Latvian people have extended the current center-right government's mandate to continue painful economic reforms.
The new prime minister expressed his gratitude to the Latvian people.
Valdis Dombrovskis, Latvian Prime Minister, said, "Well first of all I'd like to thank the voters for their support, for the confidence they showed in the current economic and foreign economy and foreign policy directions. So certainly we expect to continue with our current policies."
According to the Central Election Committee, Dombrovskis mustered more than 60 percent of the vote. Dombrovskis said that the results showed voters had rejected populism and opted for stability.
Valdis Dombrovskis, Latvian Prime Minister, said, "We see that current coalition in the next parliament will get a comfortable majority and that's the current basis for negotiations that the existing coalition could continue to work."
Dombrovskis has already taken Latvia through harsh budget cuts and tax rises to fulfill the terms of a 7.5 billion euro bailout agreed with International Monetary Fund and the European Union.
He has also said that he will aim to reform the current government and that talks with other parties would begin on Sunday.
Editor:Zhang Pengfei |Source: CNTV.CN