Watch Video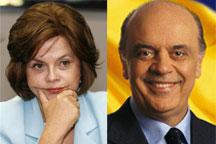 Play Video
62-year-old Dilma Rousseff is a loyal follower of the outgoing President Luiz Inacio Lula de Silva.
As a young girl she struggled against the military regime which ruled the country between 1964 and 1985. She was tortured and spent three years in prison in the early 1970s.
Her first political job came in 1985 and began entering the country's political spotlight, after joining the Workers' Party in 2001.
She served as the Minister of Energy during Lula's first term as President in January 2003. In 2005 she became the Chief of Staff.
Rousseff said, "And I want to say to you, that we, Brazilian women, are competent to govern this country and to give it as much pride as President Lula gave it. This president, who has a place in the heart of every Brazilian."
Her rival is Jose Serra, the candidate of the traditionally powerful Brazilian Social Democratic Party, and a former Sao Paulo State Governor.
Serra said, "We can have an ethical government. A government that focuses on the people and not on party politics and select groups. We want a government that is focused on all our fellow citizens, a government for the Brazilian people."
68-year-old Jose Serra is one of the most experienced politicians in Brazil and was a popular Health Minister in the administration of President Fernando Henrique Cardoso.
He first ran for president in 2002, losing to Lula in a runoff and now is running for a six-party, center-right coalition.
Editor:Zhang Jingya |Source: CNTV