Watch Video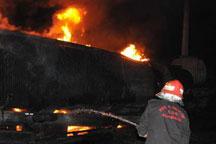 Play Video
Suspected militants attacked and set fire to at least 20 tankers carrying fuel for NATO and US troops. It was the third such strike inside Pakistan since the closure of the Khyber Pass route to NATO and US traffic.
The attack took place not far from the capital of Islamabad, on a supply line that has been stalled after temporary border closing imposed by Pakistani government. The closure is part of a protest to a NATO helicopter attack that killed three Pakistani troops last week.
The attackers opened fire on trucks that were parked at a poorly guarded terminal before setting them on fire.
Wali Ullah, assistant driver, said, "We were sleeping on the roof of a tanker, then we heard firing noises and shooting started. We all ran to save our lives."
Mir Wise, Senior Police Superintendent, said, "This incident took place about a couple of hours ago and there were about nine to twelve people, who have come here and carried out this sabotage activity. They were armed and they have fired shots, and they put some of the tankers on fire, about 13 of them caught fire. "
Militants are threatening more attacks on tankers to avenge the incursions.
While NATO and the US have alternative supply routes into Afghanistan, the Pakistani lines are the cheapest and most convenient.
But civilian casualties caused by the missile-carrying pilotless drones infuriated many Pakistanis which is making cooperation with Pakistan's government much harder.
A Pakistani fire fighter tries to extinguish the burning NATO oil tanker following
an attack in Rawalpindi near Islamabad, Pakistan, Oct. 4, 2010. (Xinhua/Zeeshan Niazi)