Watch Video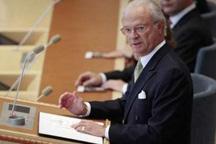 Play Video
Sweden's King Carl the 16th-Gustaf has opened the new session parliament. The Prime Minister introduced his new government and measures to improve the country's economy.
With pomp and ceremony, King Carl XVI Gustaf of Sweden opened the new session of his nation's parliament.
King Carl XVI Gustaf of Sweden said, "I hereby declare the 2010 / 2011 National parliament opened."
Swedish Prime Minister Fredrik Reinfeldt presented his government on Tuesday.
The new 24-member Cabinet includes seven new ministers, with four leaving their posts.
The Prime Minister also set out the government's priorities.
Prime Minister of Sweden Fredrik Reinfeldt said, "While other countries have to implement austerity packages, we can work on efforts to reduce unemployment. We can focus our efforts on meeting our country's future challenges."
Swedish Prime Minister Fredrik Reinfeldt now leads a minority government after his center-right coalition lost control of Parliament in last month's election.
Reinfeldt's four-party alliance won 173 of 349 seats in the September 19th vote - two short of a majority.
The Red-Green opposition also lost ground in the election and the far-right Sweden Democrats managed to enter Parliament for the first time, holding the balance of power with 20 seats.
Editor:Zhang Ning |Source: CNTV