Watch Video
Play Video
Expectations are building at the rescue site where 33 Chilean miners have been trapped for over two months. The miners are to be pulled out soon as a rescue plan is tested successfully. Authorities say they're ready to receive the men the moment they reach the surface.
Everything is in place for the journey to the surface.
This capsule will bring miners back from some 600 meters underground.
All of them will be lifted to safety one by one, as early as Wednesday.
Alejandro Pino, Rescue Operations Chief, said, "At the end of the day, comradeship is their need to hug their loved ones, to keep the group unity that the 33 have had deep down in that mine."
Spirits are high above ground.
After a quick on-site medical check, the 33 men will be flown by helicopter to the local hospital where they will be put under observation in a ward as dark as a cinema.
Copiapo's hospital is ready to receive them.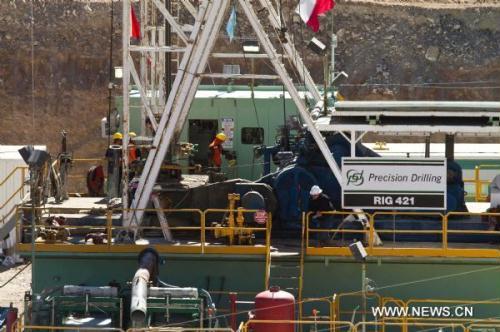 Operators working at the drill in Copiapo of north Chile, Oct. 11, 2010. The
operation to lift out 33 miners trapped for over two months in northern Chile will
kick off early Wednesday, Mining Minister Laurence Golborne said Monday. (Xinhua/
Martin Zabala)
Chile miners' family waiting for reunion
With rescue work making significant progress, family members of 33 trapped miners have begun to stream into a camp near the mine, waiting for the moment to reunite with their loved ones.
Full Story>>
Chinese-made crane joins Chile mine rescue