Watch Video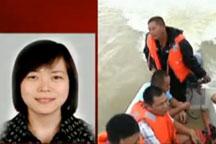 Play Video
Updates: Super typhoon Megi to bring heavy rains in southern China's Guangdong Province
Super typhoon Megi is gaining strength, and is forecast to make a hard landfall on the eastern coast of southern China's Guangdong Province around Saturday. The Central Meteorologic Observatory issued an early warning on Wednesday. Full Story>>
Let's now get an update on the weather in Southern China from our correspondent Qu Shang, who's on the line in Haikou.
Q1: Hi, Qu Shang. The Hainan provincial Meteorological Bureau has downgraded its forecast for the damage Megi is likely to cause. That's pretty good news. But still, they have to be prepared for super typhoon. What can you tell us about this, especially regarding transport and infrastructure?
Q2: And what measures has the local government taken to protect people's livelihoods, especially the people affected by floods?
Editor:Zhang Jingya |Source: CNTV