Watch Video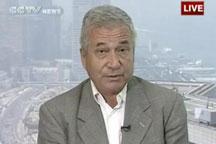 Play Video
The Hong Kong Observatory has cancelled its storm warning as Typhoon Megi continues to weaken.
Let's cross over now to our correspondent Stephen Vines who's there in Hong Kong, to find out how the typhoon is impacting the Special Administrative Region in southern China. Hi, Stephen.
Q1: We know that Typhoon Megi has made a detour, so its effect on Hongkong might be weakened. That's pretty good news. So what's the weather like over there, and how will Megi affect the region?
Q2: Still the Hongkong SAR government must have taken a series of precautions to protect the locals and the infrastructure. Could you tell us more about those measures?
Thanks, Stephen. That's our correspondent Stephen Vines, talking to us from Hong Kong.
Typhoon Megi makes landfall in China
Megi was located at 50 kilometers south of Zhangpu, in east China's Fujian Province, and its central wind force reached 40 meters per second. <Full story>
Fujian braces for Typhoon Megi
Typhoon Megi is expected to deliver strong winds and heavy rainfall, when it strikes the coast of Fujian province. <Full story>
Editor:Zhang Pengfei |Source: CNTV.CN