Watch Video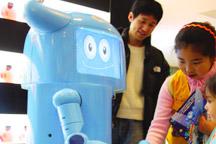 Play Video
The telephone, steam engine, and phonograph -- technological breakthroughs which changed our lives forever -- all made their public debuts at a World's Fair. The event has always been a platform for innovation.
New inventions enlighten the planet, as humanity experiences the first thrills brought on by these once strange gadgets. The history of the World Expo details people's futuristic ideas, and creative designs.
The Expo Park is full of scientific wonders. Chen Xinkang believes the China Pavilion is the best starting point to map out a special blend of creativity and technology.
Chen Xinkang, Director of World Expo Economic Research Institute, said, "Architectural design is part of the creative industry. The very structure of the China Pavilion and its exhibits, in particular the "Riverside Scene at Qingming Festival" display, exemplifies Chinese wisdom."
Architectural marvels are powered by unseen science pointing toward futuristic lifestyles.
The largest application of solar power panels to generate electricity ... folding kitchen cupboards ... and toilets with digital screens that analyze urine for medical analysis. These advances could one day hold tremendous economic value.