Watch Video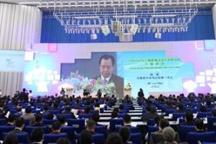 Play Video
What is the role of today's youth, and how will they contribute to a sustainable tomorrow? These are the questions under discussion at the World Expo Youth Summit in Shanghai. More than 500 outstanding leaders and representatives from relevant international and regional organizations are in attendance to share their insights on this year's theme the correlation between "City, Youth, and Future." Zhang Nini has the details.
These faces could one day constitute the backbone of the world's leadership structure.
Their very presence at the Youth Summit reflects the important role of young people in the World Expo and urban development movements.
In formulating an interactive worldwide platform, the gathering highlights the responsibility of the younger generation, and its stance on building better cities and better lives.
The first step is reaching out to the youth of today.
Global delegations gather at the World Expo Youth Summit to discuss the future of cities, share their thoughts and creative processes, and provide new ideas and feasible solutions regarding urban development. The day's seminars touch on all those issues, while hammering home the importance of green concepts and fresh innovation.
Zhang Nini, CCTV Reporter, said, "Innovation, low carbon life, and harmony, which are the concerns of the world, are the buzz words at the conference. When most countries have yet to walk out of the grip of the economic downturn, and face the quickening pace of climate change, the conference is asking the young generation to put in their talents toward building a sustainable society for tomorrow."
Editor:Yang Jie |Source: CNTV.CN