Watch Video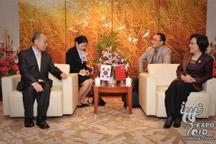 Play Video
After the curtain drops in Shanghai, the South Korean city of Yeosu will host the next World Expo, from May through August of 2012. Organizing Committee members are now in China to promote their upcoming event, as well as draw on the valuable lessons and experiences of this year's gathering. They tell our correspondent, Li Zhen, that such a move allows those attending the 2010 forum to learn more about the future host site, and perhaps solidify their interest in visiting.
The South Korea Pavilion at the 2010 World Expo features one exhibit specially dedicated to Yeosu, the host city for the next edition of the event, two years from now. Chung Nae-Jung, the officer in charge of this area, has been in Shanghai for nearly six months.
Chung Nae-Jung, Shanghai Officer, Yeosu 2010 World Expo Organizing Committee, said, "I am here to learn from the experience of Shanghai. From what I have witnessed here, this particular World Expo is a great success, due to very sufficient preparation, as well as the great support of local residents. We have learned a lot of helpful lessons from the Shanghai World Expo."
The Yeosu Exhibition Hall contains a display on the theme of the 2010 World Expo -- "The Living Ocean and Coast: Diversity of Resources and Sustainable Activities." Whether its a film promotion, or an electronic game allowing players to create their own unique fish, the motto is omnipresent.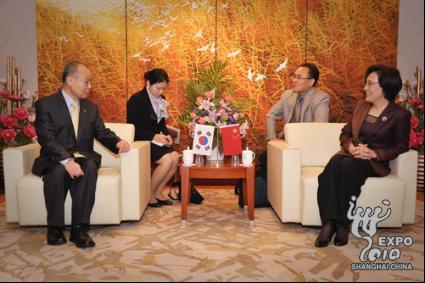 Zhong Yanqun, deputy director of the World Expo 2010 Shanghai Executive
Committee, welcomes a delegation led by Kang Dong-Suk, chairman of the
Organizing Committee for Expo 2012 Yeosu Korea.
Chung Nae-Jung said, "We want people to see the importance of the ocean, not only as a resource itself, but also how to use it efficiently, and how to protect it. We expect that the theme of the 2012 Yeosu World Expo will trigger a global dialogue on the new concept of a "Blue Economy," referring to the commercial development of the ocean in a sustainable way in the 21st Century."
South Korea has sent out invitations sent to 165 countries and 26 international organizations so far. By the end of last year, 62 countries had officially confirmed their participation.
Chung Nae-Jung said,"We started construction work this past March. The building of pavilions will commence in November. We hope to finish all of the structures by the end of next year. We welcome tourists to come to Yeosu in 2012."
Li Zhen, CCTV Correspondent, said, "From Shanghai to Yeosu ... from the `Better City, Better Life` catchphrase -- to the theme of `The Living Ocean and Coast` ... the main idea of World Expositions won't change. Concepts have long depicted a planet full of diversity, and advocated harmony with nature. This is not only the pursuit of Expo organizers, but also the dream of human society as a whole, on the road to a brighter future. Li Zhen, CCTV, Shanghai."
Editor:Yang Jie |Source: CNTV.CN