Watch Video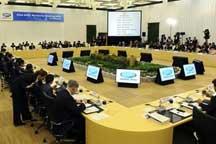 Play Video
Ministers from the Asia-Pacific Economic Cooperation, or APEC, are in their final day of talks in Yokohama, Japan. They are expected to pledge to avoid protectionism and work toward creating a vast free trade area in the world's fastest growing economic region.
On Wednesday, the APEC ministers agreed to avoid taking any new protectionist measures for the next three years. They also pressed for a conclusion to the Doha round of trade liberalization talks in 2011.
Japanese Foreign Minister Seiji Maehara is co-chair of the bloc's 22nd's ministerial meeting, and he outlined what he hoped to achieve.
Seiji Maehara, Japanese Foreign Minister, said, "We need to discuss how to prevent trade protectionism, and seek an early conclusion of the World Trade Organization's Doha round talks, which have been in place for 10 years. This will allow us to promote free trade and investment, and ensure the stability of the global economic recovery."
Ministers said they would also build on the 43 bilateral and mini-free trade pacts with each other in the region, which is home to 40 percent of the world's population and 53 percent of global economic output.
Nine APEC members have already set up their own free trade areas, in a bid to build an EU-style economic community.
The US-led Trans-Pacific Partnership is the main building block of the Free Trade Area of the Asia-Pacific.
An Asia-Pacific free trade area would link the world's top economies with some of its fastest-growing ones such as Indonesia, Thailand and Mexico.
Related stories