Watch Video
Play Video
President Hu Jintao has arrived in South Korea's capital Seoul to attend the G20 summit. The summit aims to address the challenges to the ongoing global economic recovery from a world financial crisis and pave the way for future sustainable and balanced growth.
A new diplomatic trip.
President Hu Jintao arrived in Seoul on Thursday morning.
Under the theme of "Shared Growth Beyond Crisis", the two day summit is being attended by 32 heads of state and leaders of international organizations.
It will discuss issues including IMF reform, the establishment of financial safety nets, ways to address global imbalances, and international cooperation on currency exchange rates.
Before leaving, President Hu gave a written interview with South Korean media about China's expectations for the summit.
Hu noted this is the first G20 summit of its kind to be held in an emerging economy. The G20 has emerged as a new mechanism of global governance since the start of the international financial crisis two years ago. President Hu said China is ready to work with the other G20 members to build on achievements made at previous summits.
He pointed out that the Seoul summit should focus on the following issues: First, to continue to strengthen coordination of macro-economic policies. Second, to advance reforms of the international financial system. Third, to push forward a solution to the unbalanced development between developed and developing countries and to provide political support to the realization of UN Millennium Development Goals. Finally, Hu Jintao stressed G20 leaders must be united in opposition to trade protectionism.
Unlike the G8 so-called "rich club," the G20 incorporates the fastest growing economies in the world, including China, Brazil, Russia, India and South Africa.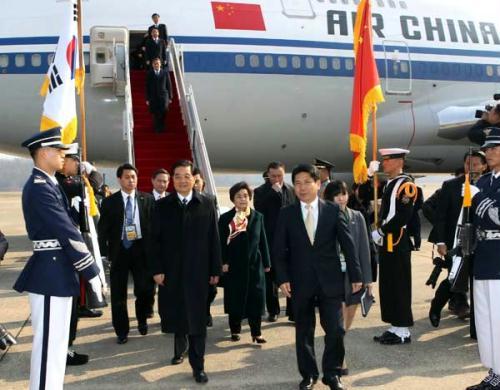 Chinese President Hu Jintao (L, front) and his wife Liu Yongqing are welcomed by
South Korean's Minster of Public Administration and Security
Maeng Hyung-kyu (R, front) upon their arrival in Seoul, capital of South Korea, Nov.
11, 2010. (Xinhua/Lang Hongguang)