Watch Video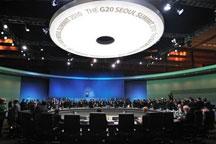 Play Video
The G20 Summit has started its plenary sessions in Seoul, continuing to discuss issues related to the "Global Economy and Framework". G20 leaders will hold six plenary sessions today before issuing a joint communique.
The leaders from the world's 20 major economies have brought both global concerns and national interests to the COEX Center.
At the first plenary session, South Korean President Lee Myung-bak said " big progress" has been made on the G20 discussion table.
He stressed the significance of the agreements reached at the October Gyeongju G20 Finance Ministers and Central Bank Governors Meeting, which was held to help ease global tensions related to currency issues and global imbalances.
He also spoke of the need to follow through on the Mutual Assessment Process to avoid future crises and promote strong sustainable growth.
Members of the G20 Framework Working Group presented their most recent discussions.
The Summit officially started Thursday evening when President Lee Myung-bak hosted a grand welcome reception and a working dinner.
Friday's topics include currency exchange rates, global financial stability, reform of major International Financial Institutions, aid to developing countries, and fighting corruption.
The overall goal of the summit is to establish strong, effective, sustainable, and balanced frameworks to sustain the global economic recovery and growth.
The participants are expected to hammer out the final draft of the G20 Seoul Summit declaration, known as the Korea Initiative.
Editor:Du Xiaodan |Source: CNTV