Watch Video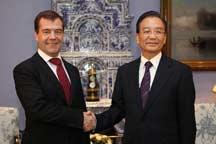 Play Video
Before leaving for Tajikistan, Chinese Premier Wen Jiabao met with Russian President Dmitry Medvedev. The two leaders exchanged views on major international and regional issues of common concern, agreeing to further strengthen bilateral ties.
Wen Jiabao says China and Russia have both entered key stages of development.
He says the two countries should expand mutual trade and investment, and comprehensive high-tech cooperation. Wen spoke of a deepening bilateral cooperation in energy fields, such as gas and oil, nuclear and coal. He also called for the promotion of regional cooperation, and an enhancement of the competitiveness of both countries.
Medvedev says the Russia-China strategic partnership has developed fruitfully and healthily.
He added that the 15th regular meeting between Chinese and Russian premiers had been a success, with the signing of a series of important cooperation documents.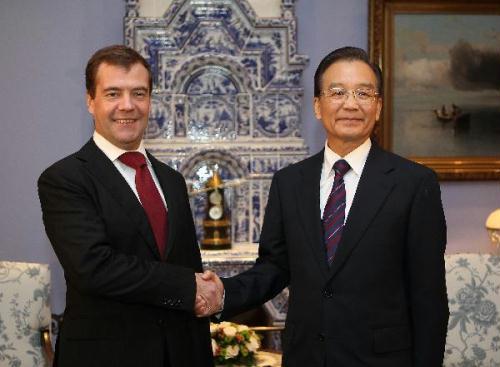 Chinese Premier Wen Jiabao (R) shakes hands with Russian President Dmitry Medvedev
during their meeting in Moscow, capital of Russia, Nov. 24, 2010.(Xinhua/Ju Peng)