Watch Video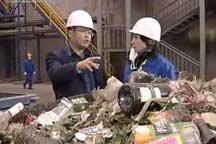 Play Video
Refuse treatment is a crucial issue for all nations, and China is no exception. In big cities like Beijing, each person produces around 1 kilo of household waste each day. In today's special series, Green Growth, CCTV reporter Xue Jingmeng takes a look at what happens to refuse once it leaves our homes.
The journey starts here.
This is one of Beijing's largest garbage treatment companies, dealing with 16 thousands tons of household waste each day. The capacity of each truck is about 20 tons - this means around 80 trucks are needed to cover the workload.
Wu Jixu, director of Guozhong Biotech, said, "This is collection and classification center. After classification, about 60 percent of organic matter will be fermented and composted. The other waste will be buried or burned."
On average, the garbage consists of 60 percent organic matter, 12 percent plastic, 10 percent inorganic matter and 18 percent for everything else.
In this workshop, something doesn't smell too good. There are examples all around of the waste we produce each day, such as glass bottles, metal, and plastic containers. Mr Wu says that if the public separated their own waste products at home, it would make their job easier.
This organic matter has been here about a month. After another month's maturing, it will decompose into useful fertilizer.
Wu Jixu said, "A ton of rubbish can produce 200 kilos of organic fertilizer, useful for agriculture and gardening."
In order to see what happens next to fertilizer transformed from household rubbish, we went to visit a green house, where farmer Li Yuanhu is planting vegetables and fruit.
Farmer Li Yuanhu said, "In the beginning, we worried about the fertilizer. We weren't sure of its quality. Now we find that it's changed the structure of the soil, and made it much softer. It has a low price compared with normal fertilizer, and it is much greener."
The fertilizer costs around a quarter of the normal price. Li Yuanhu told us that more and more farmers in his village are buying it. As a result of new technology and an awareness of green growth, all garbage recycling facilities in Beijing have now adopted this technique.
Garbage is a big problem for most Chinese cities. Much of our refuse could actually be put to good use, if the efficient garbage treatment systems were available. Re-using household waste must be an important component of any modern, efficient and green economy.
Editor:Zhang Ning |Source: CNTV.CN