Watch Video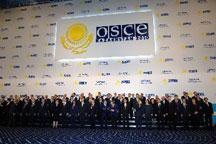 Play Video
Kazakhstan is hosting the 7th summit of the Organization for Security and Cooperation in Europe, or OSCE. The summit opened amid tight security on Wednesday and is highlighted by discussions on issues ranging from Afghanistan to terrorism and the illegal drug trade.
US Secretary of State Hillary Rodham Clinton called on the OSCE on Wednesday to play a bigger role in the issue of Afghanistan and other long-running conflicts.
Clinton's comments came as world leaders arrived at the summit in Astana, Kazakhstan.
It is the first top-level meeting of the 56-nation group in 11 years.
Hillary Clinton said, "Afghanistan is just one conflict, where the OSCE can and should play an expanded role. In fact we believe the organization needs to be empowered to respond more effectively to crisis within the OSCE itself."
It is the first time that an OSCE summit has been held in a Central Asian country.
Holding the rotating chair of the OSCE this year, Kazakhstan urged world leaders to revive the role of the organization in tackling security challenges.
It also says Asian countries should shoulder more responsibilities under the framework of the OSCE in future.
The event is being attended by 38 heads of state, including Russian President Dmitry Medvedev, and German Chancellor Angela Merkel. UN Secretary-General Ban Ki-Moon, as well as European Union President Herman Van Rompuy are also attending.
The OSCE's origins go back to the early 1970s, when the Conference on Security and Cooperation in Europe was created to serve as a multilateral forum for dialogue and negotiation between the East and the West.
The OSCE is based in Vienna with 56 participating states from Europe, Central Asia and North America. It also maintains formal relations with a number of partner states in Asia and the Mediterranean.
Editor:Zhang Jingya |Source: CNTV.CN