Watch Video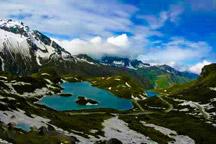 Play Video
Over the past four decades, people in and around Motuo have been battling poor road conditions. Now let's find out a little more about the smallest county in China, and the project that is about to link it with the outside world.
Located in the southeastern part of Tibet, the 117 kilometer-long Motuo highway will link Motuo County and Bomi county. Construction on the 950 million yuan-budget project started in April, last year and is estimated to finish in 2012.
It will consist of two parts, the newly constructed Ga-long-la Tunnel and the rebuilt section.
The Ga-long-la tunnel is the key sector of the project. Once completed, it will be over 3.3 kilometers long, cutting 24 kilometers from the original rugged mountain road. Meanwhile, 29 bridges and 227 culverts will be constructed in the rebuilt section.
The Highway negotiates the complicated terrain of the Grand Yalunzangpo Gorge. The drop between the highest and the lowest point is over 3100 meters. People have to cross more than 6 rivers before approaching Motuo County.
The environment along the Motuo highway consists of a rare combination of glaciers and wetlands. And various environmental protection considerations feature throughout the project.
Due to the poor geological conditions, none of the roads linking Motuo county to the outside world are safe and convenient. It has made Motuo an "isolated island" in the Tibet Autonomous region. But the highway will provide a gateway for the county and its people to explore the outside world.
Editor:Zhang Ning |Source: CNTV.CN