Watch Video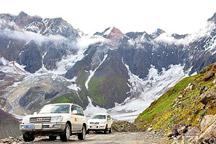 Play Video
Due to difficult natural conditions, building a highway connecting Motuo County with the outside world was once considered impossible. But with the Galongla Tunnel now creating a passage through the mountain, the dream is coming true. Zhou Xiran explains past transportation hardships, and why the building of this road is so crucial.
Motuo is considered the "last mysterious land on earth."
There have historically been two main access points entering this county. The first route has travelers start in Pomi County, tramp over two mountains that rise higher than 4-thousand meters, and cross a forest full of leeches, poisonous insects, and wild animals. This course is also teeming with the risks of avalanches, downpours, and landslides.
Another traditional path is scaling snow-covered Duoxiongla Mountain, which reaches as high as 42-hundred meters, sliding through a cable over the Yarlung Tsangpo River, and walking through the towns of Lage, Hanmi, and Beibeng. Only then could a wayfarer enter this Tibetan paradise.
The trip would last four days, and the route is only available for a limited period of time -- from June through October -- if that long.
From June to September, abundant rainfall causes this road to break up every year. From November to June, the Galongla and Duoxiongla mountains are usually blocked by thick snow.
With poor transportation options, goods moving into the county could be only carried by human beings or livestock, especially during the winter season, when the area is blocked by heavy snow on the mountains, making Motuo an "isolated island."
Cargo transporter Xu Xinggui said, "Each year, we carry goods 120 or 130 times, on average."
The limited amount of goods has given Motuo County the highest consumer prices in China ... Just imagine paying 10 yuan for a bottle of Coca-Cola, or 20 yuan for a bottle of beer.
Motuo County vendor Li Ziaoyu said, "Lean meat is 40 yuan per kilogram, and fat meat is 36 yuan per kilo. That's much more expensive than other parts of China."
Bu Qiong, quality control engineer of Armed Police Traffic Team, said, "Motuo is an isolated island on this plateau, as well as the only county in China with no vehicle access. The people of Motuo desire lots of goods, and they have to carry them on their shoulders from outside ... walking."
The county's only hospital lacks medical equipment and expertise, and people can only purchase medicines once a year, when the routes are able to be passed.
Deng Shenmin, deputy director of Motuo County People's Hospital, said, "After the Galongla Tunnel creates a pass through the mountain, the sickest patients can be transferred outside, and it will be easier to get medicines. We're planning to enlarge our hospital and improve service for the patients."
Likewise, the county's only post office and bank are operating seasonally. During the snowy season, when mountains are blocked, the arrivals of letters and telegrams are delayed, and banking networks are cut off. Local residents normally read newspapers several months later, and immediate remittances actually take 3 days.
Jian Ada, director of Motuo County Post Office,said, "After the Motuo Highway is built, mail, magazines, and letters will be delivered to local departments without delay."
As the Galongla Tunnel is cut through the mountain, it will be not only free access for goods flow... changing local people's basic life condition ... but also bring in knowledge, culture, and technologies -- helping to build a better Motuo County.
Editor:Zhang Ning |Source: CNTV.CN