Watch Video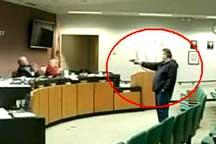 Play Video
Police say they have identified the gunman who killed himself after he opened fire at a Florida Panhandle school board meeting.
Clay A. Duke walked up to a podium at the meeting, spray painted a red "V" with a circle around it on a wall and began firing.
He shot himself after exchanging gunfire with Bay District's security chief. Witnesses say Duke may have been complaining that his wife had lost her job. There were no other injuries.
Related stories