Watch Video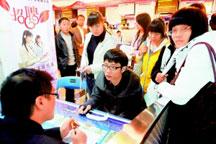 Play Video
Chinese education workers have been trying to modify the college entrance system. Starting next year, many Chinese universities will be more independent in recruiting students.
Experts say it is a significant reform that will change the fact that one test decides future. However, many worry the process may be implemented too quickly, and the reform may not be efficient. CCTV reporter Feng Jinchao has the details.
Since the resumption of college recruitment in 1977, college entrance exams have been changing the fate of tens of millions Chinese from all walks of life. More importantly, it shaped China's educational landscape. After thirty years, many in China hope it could make a change.
Professor Li Yue said, "Generally, the unique standard is the character of current college entrance exams. It brought some problems. For example, it unified the value of selecting talent, and unified the goal of high school education. These factors restricted the cultivation of talent."
Starting in 2011, universities in China are going to have more access to self recruitment, which means the 30-year old national college entrance exam will not be the only judgment for students' entering colleges. Some universities formed leagues to absorb students, especially those who have outstanding skills in specific areas.
The two leading leagues, respectively led by Peking University and Tsinghua University, cover China's top colleges. Students' scores will be recognized within league members.
He said, "It has been formed among schools that share the same concepts and values. It will help raise the efficiency of enrollment, not only for colleges, but also for students. More importantly, this diversification filtered into the process of selecting talent. This is a good thing."
All leagues will have their own preliminary examinations, but it's up to each member to set up their own criteria of judgment and recruitment.
For many students in China, going to college, especially prestigious ones like Peking and Tsinghua Universities, means an opportunity to change or redefine their life. The self-enrollment leagues aim to open the door for more brilliant high school graduates. But the question is, will it have an effect?
China Agriculture University is one university, which qualifies for self-enrollment. However, the school didn't join a league, nor does it partake in self-enrollment. Its President published an article on the school's website, pointing out the shortcomings of the current college self-enrollment.
First of all, he says, it is not a real self-enrollment, which the proportion and qualification must be confirmed by government education departments; and, students who take the self-enrollment exams must also take the national College Entrance Exam. Many students who enter the colleges through self-enrollment exam can achieve their goal by the usual College Entrance Exam.
So, finally, he asserted, the self-enrollment is just a partial amendment, it is not a reform. It has nothing to do with 99.5% of the students.
"The self-determination is very limited, it(self-enrollment) has nothing to do with 99.5% of the students. the self-enrollment is just a partial amendment, it is not a reform."
Cheng Fangping has been studying China's college education for 30 years. Speaking of the self-enrollment league, he says after all it is a good thing. It is an attempt to change. But he says the process should not be rushed. Besides scrambling for top students, there is more to be considered.
Cheng said, "This self-enrollment must be guaranteed by the system. Because our credibility has been breached to a great extent. It is not enough to realize the fairness and justice only by promise. It needs the observation of stakeholders, the participation of teachers, and the attention of the public."
The number of high school graduates next year will be lowest in the past decade. This may make for fierce enrollment competition among colleges. As a landmark in China's college recruitment system, the self-enrollment leagues will change, if not reshape, the way of entering colleges, for better, or for worse.
Editor:Zhang Jingya |Source: CNTV.CN