Watch Video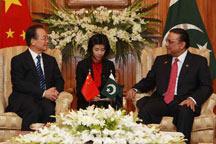 Play Video
In Pakistan, Chinese Premier Wen Jiabao met Pakistani President Asif Ali Zardari in Islamabad on Saturday, and the two leaders agreed to boost the traditional China-Pakistan friendship.
Premier Wen says China values its time-tested friendship with Pakistan and hopes to expand bilateral cooperation.
In the new global and regional situation, Wen says China and Pakistan face new opportunities and challenges in developing their ties.
He also says China will maintain the frequent exchanges of visits by state leaders and increase dialogue at different levels.
The two countries will enhance their strategic coordination, expand mutually beneficial cooperation, better safeguard their shared interests and realize common development.
Zardari, for his part, says China and Pakistan are true partners and close brothers with multi-dimensional cooperation, holding the same or similar positions on key regional and international issues.
The president says Wen's visit to Pakistan, which is significant and fruitful, will push the bilateral relations to a new high.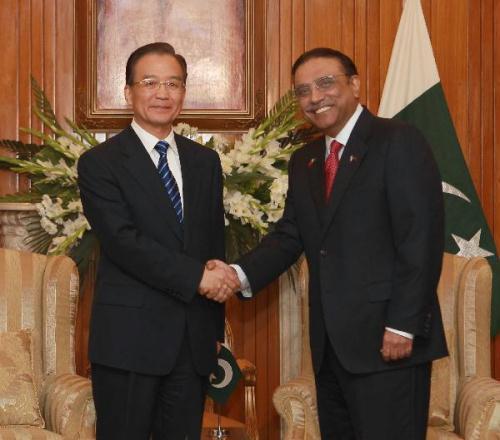 Visiting Chinese Premier Wen Jiabao (L) shakes hands with Pakistani President Asif
Ali Zardari during their meeting in Islamabad, capital of Pakistan, Dec. 18, 2010.
(Xinhua/Liu Weibing)
Earlier in the day, addressing the China-Pakistan Business Cooperation Summit in Islamabad, Wen said the 20 newly signed commercial deals reflect the huge potential for expanding bilateral economic and trade cooperation.
He announced the two countries have signed trade deals worth about 10 billion U.S. dollars, covering projects in the sectors of new energy, agriculture, cotton yarn and non-ferrous metal imports.
Also on Saturday, Premier Wen met with Nawaz Sharif, chief of Pakistan Muslim League-Nawaz, Pakistan's opposition party.
He also met with some of the country's high-ranking military officials, hoping to establish closer cooperation between the two armies.
Related stories