Watch Video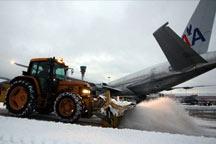 Play Video
Blizzards and freezing temperatures have shut down runways, train tracks and highways across Europe. The severe winter weather has disrupted flights and left shivering drivers stranded on roadsides. Airports in Britain, Germany, and other European countries reported cancelations or delays to flights.
All flights at London's Gatwick airport were cancelled, after snow blanketed the runway. Nearly 50 snow ploughs and 150 staff were deployed in an effort to clear the icy surface.
Traverler, London, said, "We're hoping to go to Salzburg, Austria and the weather literally just came down about half an hour ago. We were just outside of Gatwick and there was nothing and five minutes in it's just a nightmare."
In most airports around London, passengers were warned to expect continuing delays and cancellations.
Blizzards and freezing temperatures have shut down runways, train tracks and highways
across Europe.
Elsewhere in Britain, major roads and motorways also experienced traffic chaos.
In England's northwest, hundreds of motorists were left stranded on the M-6 in Greater Manchester.
Truck Driver, Manchester, said, "That's horrendous, the A-61 was closed, the M-6 was closed, it was just a total nightmare all round about it, everywhere is gridlocked."
The temperature is expected to stay below freezing for the next 24 hours.
Meanwhile, Northern Ireland witnessed its heaviest snowfall in 25 years. Up to 60 centimeters of snow fell in parts of the countryside.
Local authorities tried to keep highways open, with snow ploughs working around the clock.
More severe weather has been forecast for the weekend, with heavy snow falls expected across the country.
In Italy, the country's main north-south highway was jammed with hundreds of vehicles. Though snow had mainly cleared or melted early Saturday, the highway was still closed in one direction.
In Germany, Some 200 flights were canceled at Frankfurt airport. A spokesman for the airport said that was largely to do with disruption to schedules caused by problems elsewhere in Europe, while all runways at Frankfurt itself were clear.