Watch Video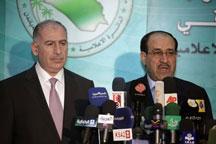 Play Video
Iraqi Prime Minister Nouri Al-Maliki has submitted his new Cabinet, but nearly a third of the nominees are only acting ministers. Al-Maliki's move is considered as clearing a key hurdle to seating the government more than nine months after national elections.
Iraqi Prime Minister Nouri Al-Maliki has named 42 candidates to take over the ministerial portfolios.
Flanked by al-Maliki, Parliament Speaker Osama al-Nujaifi announced the prime minister had met his constitutional deadline. Parliament is expected to vote on the nominees as early as Tuesday.
But nearly a third of them are only acting ministers. Al-Maliki will serve as the acting minister for the nation's top three security posts. This is to give lawmakers more time to ensure they are filled with politically independent officials.
He said, "I'll be acting minister of all security ministries, because we want to reach to a compromise in naming ministers of the security ministries who can serve all the Iraqi people."
This move is considered an attempt to buy time to work out disagreements with a key part of his coalition, the hardline Shiite faction loyal to anti-American cleric Muqtada al-Sadr.
Although 13 of the posts are filled with acting ministers, al-Nujaifi's endorsement suggests that Iraqiya is on board. The Sunni-backed Iraqiya alliance had won the most seats in the March 7 election.
The Sadrists are another matter. They were promised eight of those jobs but also demanded another. Al-Maliki rejected some of their candidates, declaring them uneducated or otherwise unqualified.
The prime minister says that discussions continue to ensure all parties are fairly represented in the government.
Editor:Zhang Jingya |Source: CNTV.CN