Watch Video
Play Video
Ukrainian opposition leader Yulia Tymoshenko has been charged with allegedly misusing state funds during her time as prime minister from 2007 to 2010.
Dozens of supporters holding flags of her "Batkivshina" party greeted her near the entrance to the Ukrainian Prosecutor General's office. Tymoshenko narrowly lost the February presidential election to President Viktor Yanukovich.
In October, auditors hired by Yanukovich's government published a report accusing Tymoshenko of illegally using funds, raised by selling carbon emission rights under the Kyoto Protocol, to plug gaps in the country's pension fund. Tymoshenko has described the charges as "absurd" and dismissed the accusations as being politically motivated.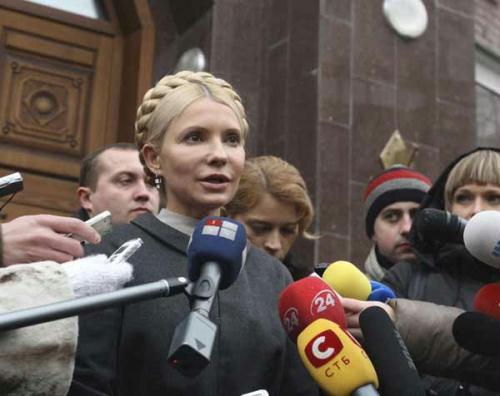 Ukrainian former Prime Minister Yulia Tymoshenko talks to the media as she arrives
at the state prosecutor's office in Kiev December 15, 2010. Charges were filed
against former Tymoshenko on Monday over alleged misuse of state funds during her
tenure from 2007 to 2010, Tymoshenko's spokeswoman said in a statement.
(Xinhua/Reuters)
Editor:Zhang Jingya |Source: CNTV.CN