Watch Video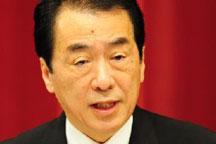 Play Video
With his support ratings sagging, Japanese Prime Minister Naoto Kan outlines some of his major policies during a nationally televised press conference. He said the country's politicians need to debate comprehensive tax reforms, as well as the social security system.
Wearing a silver tie and a tuxedo, Prime Minister further explained his vision for his country.
Naoto Kan, Japanese Prime Minister, said, "I want this year to be Year One of opening up the country, and for all the people of Japan to seek out chances in the world. For that, we need to minimize the factors that make people unhappy, such as poverty and unemployment."
The Prime Minister went on calling for renewed debate on tax reform.
Naoto Kan, Japanese Prime Minister, said, "The need for a discussion about social welfare and the resources required, including tax reform and raising the consumption tax, is clear to everyone."
But he fell short of giving an exact percentage of increase.
The debate on the sales tax has been stalled since the ruling DPJ lost in a July upper house poll. Some economists say the increase is crucial as the whole population is aging and Japan is currently suffering from a large public debt of 10 trillion US dollars, twice the size of its economy.
Kan also explained the Japanese government's decision to rein in the debt by imposing a cap on new bond sales, starting from April 1st.
Kan asked his political opponents to set aside differences and stop political squabbling that has disappointed the public and paralyzed parliament.
He also called for the eradication of "money politics," a reference to the
series of scandals that have plagued Japanese politicians over the years.

As Japan's fifth leader since 2006, Kan took office in June 2010. He faces a sagging support rate that now sits at a record low 25 percent, huge public debt, a fragile economy and a divided parliament in which the opposition can block bills.
Related stories