Watch Video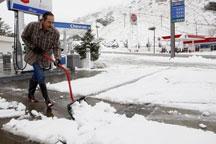 Play Video
Snow and ice in the US has forced the closure of the main highway between southern and central California, stranding many motorists.
The Highway Patrol shut the Grapevine section of Interstate 5 at noon on Monday following a blizzard. Much of the snow has now turned to ice. Local authorities say no major accidents were reported.
Freeways in the Antelope Valley near Los Angeles are also experiencing freezing conditions.
The US National Weather Authority says more snow is forecast and is likely to cause travel disruption in southern parts of the state.
Related stories