Watch Video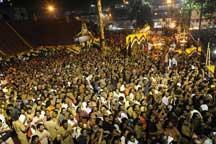 Play Video
In India, at least 100 pilgrims were killed after a road accident caused a stampede near a famous temple in the southern Kerala state. Many others were injured when a bus hit bystanders and triggered the stampede.
What was supposed to be a festive gathering turned into a major tragedy.
The stampede was set off about 8pm local time, when a bus carrying devotees hit a jeep and drove into a crowd of worshippers before falling into a deep gorge.
An estimated 150 thousand devotees were thought to have taken the narrow path out of the densely forested hills, where the Sabarimala temple is situated.
Rescuers and senior state officials rushed to the scene, but the remote location, heavy traffic and thick forest terrain hampered relief efforts.
Thousands of devotees had turned up for worship during the traditional "Makara Jyoti ceremony" at the Sabarimala temple, which houses the Hindu Lord Ayyappa. The ceremony marks the final day of the annual two-month long pilgrimage to the temple.
On Monday, another heavy rush of pilgrims left one person dead and 15 others injured.
Deadly stampedes are relatively common at temples in India, where hundreds of thousands of people often gather in tiny areas with no safety measures or crowd control.
In March,2010, 63 people were killed when poor villagers scrambled for free food and clothing at a temple in northern Uttar Pradesh state. In 2008, more than 145 people died in a stampede at a remote Hindu temple at the foothills of the Himalayas.