Watch Video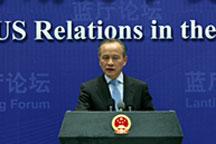 Play Video
In the run-up to President Hu Jintao's visit to the United States, relations between the two countries are a hot topic on the streets as well as among scholars. Chinese diplomats have joined scholars to analyze where the relationship is actually at.
Although China doesn't seek a world ruled by itself and the United States, a top diplomat agrees no major world issues can be solved without the two countries. Yet, they often disagree on important issues.
Cui Tiankai, Vice Foreign Minister, said, "Sino-US relations have not been smooth for the past 3 decades. Important sticking points such as the Taiwan issue are a long standing factor in bilateral relations. There are structural problems caused by different social structures, culture, and stages of development, with shorter term problems resulting from specific actions."
One recent problem is trade. Although they are each other's second largest trading partners, with total trade volume reaching 380 billion US dollars last year, they can't agree on the value of their currencies. And they can't agree on regional, or security issues.
Zhou Wenzhong, Former Chinese Ambassador to US, said, "If China and the United States work together, I think, peace will have a better chance in the world; if China and the United States disagree with each other, or even get locked in confrontation, it will not be good for either country or the rest of the world either."
Editor:Zhang Pengfei |Source: CNTV.CN