Watch Video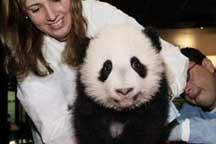 Play Video
In the past three decades, a special group of diplomats has devoted themselves to Sino-US relations. Instead of embassies, they spend their days in zoos. Yang Yan looks at the legacy of one of the most successful, the giant panda, Taishan.
Here is Taishan's old home in the Washington Zoo.
Now it's nearly a year since he left for his new home in China. But his parents are still here. And love for pandas is still going strong.
Zoo keepers and volunteers look after their daily life in the US capital.
Zoo keeper Nicole Meese became Taishan's baby sitter after his birth. She also accompanied him to China last year.
Now Meese is about to be a mother and she hopes, in Chinese tradition, that this will bring Taishan good fortune in China.
There are a lot of pandas fans in the US.
When asked about their fascination with the animals, they say they love the creatures, and want to protect them.
It's been a year since Taishan left. But sooner or later, there will be new arrivals at his old home.
Editor:Zhang Ning |Source: CNTV.CN