Watch Video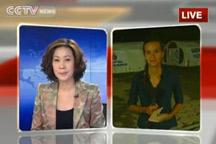 Play Video
Brazil floods and mudslides, caused by days and days of steady rain, have now claimed the lives of more than 650 people in the mountainous region, north of Rio de Janeiro. The Brazilian army is now helping the victims.
It is Brazil's worst natural disaster in decades. Heavy rain triggered massive landslides that covered several towns, leaving thousands homeless.
To tell us more about the floods, our correspondent Michelle Begue, is standing by in Nova Friburgo, Brazil.
Q1: Can you bring us up to date of the flood situation and rescue operation?
Q2: What are conditions like in the flood zone now? How are local residents dealing with the situation?
Thank you Michelle, and we'll be in touch for more updates as more details become available. That was Michelle Begue in Nova Friburgo, Brazil.
Editor:Zhang Jingya |Source: CNTV.CN