Watch Video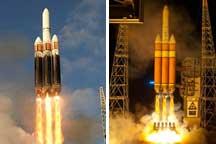 Play Video
The United States has launched the Delta IV rocket from Vandenberg Air Force Base in California.
The three-engine rocket, carrying a 1-billion-dollar spy satellite, blasted off just after 1 p.m. local time Thursday from the base, about 200 kilometers northwest of downtown Los Angeles.
The Delta IV, measuring 72 meters in height, is the largest rocket that has ever been launched from the base.
According to the Los Angeles Times, the satellite will allow US spy agencies to snap pictures detailed enough to distinguish the make and model of an automobile hundreds of kilometers below.