Watch Video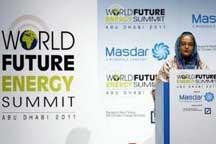 Play Video
Although oil prices are on the rise and hovering around the 100-US-dollar mark and this means bigger revenues for Abu Dhabi, the city is taking huge steps in turning the economy towards sustainable growth and diversify resources to renewable energy.
Inspired by the Abu Dhabi 2030 vision, the oil rich country made major steps to diversify its economy away from oil revenue and focused on the sustainability of the environment and the increasing dependency on renewable energy.
It all started with Abu Dhabi's vision 2030 initiative which aims for sustainable growth on a solid economic basis.
Urban planning council of Abu Dhabi has developed a sustainability initiative, Estidama, that is aiming to change the current living environment of the capital and shape it for future generations to come.
Estidama is a framework for sustainable design & construction of buildings while supporting the social and cultural traditions of the country
It works with a rating system specifically tailored to the hot climate of the city.
The country has also launched several renewable energy projects to diversify its resources such as the Shams solar plant with an approximate capacity of 100MW targeting 7% renewable energy power generation capacity by 2020.
The extreme summer temperatures of Abu Dhabi reach 48 degrees and humidity levels can be near the 100%.
Water is a precious resource due to high evaporations rates and infrequent rainfall averaging less than 100mm per annum
Although the oil contributes 49% of the GDP and the high oil prices today are increasing the income of city but the idea behind Abu Dhabi's economic diversification is that if oil prices go down, there will be other sources of income to compensate for the loss in oil revenue.