Watch Video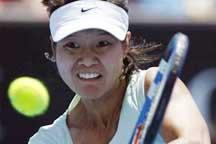 Play Video
Now to the first grand slam of the tennis season...and China's Li Na, last season's semi-finalist, hoping to continue her strong momentum at the Australian Open. The Chinese 9th seed took on Barbora Zahlavova Strycova of Czech Republic in the women's singles third round.
Li got off to a flying start, taking a 2-0 lead in the opening set. Strycova soon lost her composure, smashing her racket on the ground.
The Chinese continued to dominate the match. With powerful ground strokes, Li raced to 4-1 lead. And went on to close out the set 6-2.
The 9th seed further toppled her opponent in the next set. Li only allowed one game as she walked away with a 6-1 set win. With that, Li Na progresses to the last 16 with a 6-2, 6-1 victory.
Li Na said, "I think this girl produced few threats to me. She didn't have one or two strategies to overcome my play. I could easily defend her serves or shots."
Venus Williams out with injury
Venus Williams retired from her third round match against Germany's Andrea Petkovic with injury after lasting just seven points. The seven-times grand slam champion pulled up with what appeared to be a groin strain after lunging for a return with the German leading by a game and 30-0.
Related stories