Watch Video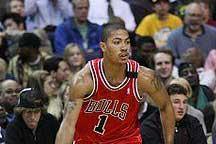 Play Video
Turning to the NBA and the Chicago Bulls at home to the Dallas Mavericks on Thursday. The Bulls, looking to move a game back of the idle Miami Heat for second place in the Eastern Conference...the Mavericks, looking for back to back wins after snapping a six game losing skid.
Bulls led 12-10. But Jason Kidd tied 12-all for Mavericks at the beginning of the first quarter.
Derrick Rose, then puts the Bulls back on top... His drive puts Bulls back in the lead 17-15.
The Mavericks would tie the game at 26-all.
Dirk Nowitzki's jump shot falls, the Mavs on top by 2, halfway through 2.
Rose with another great drive to the hoop as he ties the game at 66-all at the beginning of the fourth quarter.
Rose then hits the off-balance little floater in the lane...he would finish with 26.
And then later in the Q, he gives the Bulls the three point lead with just under a minute to play.
Final 30 seconds, Mavericks looking for the tie, but Jason Terry's attempt...draws iron, the Bulls beat the Mavericks 82-77.
Related stories