Watch Video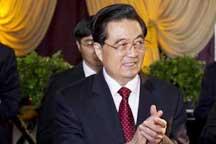 Play Video
President Hu Jintao has wrapped up his four-day visit to the United States. Hu Jintao left for home on Friday from Chicago, where he attended a dinner with Mayor Richard Daley. Now our reporter Gui Xiaozeng takes a review on what President Hu Jintao's US trip has achieved.
The trip is aimed at enhancing a cooperative and comprehensive relationship between China and the US.
Hu Jintao, Chinese President said, "The Chinese President gave a speech at a welcome luncheon hosted by US business organizations, and put forward a five-point proposal for further development of China-US relations.
"In the face of the complex and fluid international situation, and various risks and challenges, our countries should step up cooperation, and work with people across the world, to share opportunities, meet challenges, and build a better future for mankind."
President Hu Jintao also says China "will never seek hegemony or pursue an expansionist policy."
Earlier, in a closed-door meeting on Capitol Hill, the Chinese President met with US lawmakers. He called upon the US Congress to continue their efforts to boost relations of the two countries.
In a press conference held after the meeting, the message of cooperation was also conveyed by the US President.
The two leaders held talks on Wednesday at the White House, and they jointly met business leaders from the two countries. The two sides also issued a joint statement, agreeing to build a cooperative partnership, based on mutual respect and benefit.
The Obama administration announced business deals with China worth 45 billion dollars, expected to create 235,000 jobs in the US.
For his last stop, the Chinese president traveled to Chicago on Thursday where he met local officials.
Although disputes remain on issues such as human rights, the Chinese currency and investment barriers, President Hu Jintao's US trip has been praised as successful, during which broad consensus was reached.
Gui Xiaozeng, Beijing, said, "On several occasions President Hu Jintao told the Americans that the purpose of his visit was to increase mutual trust, enhance friendship, deepen cooperation and advance the positive, cooperative and comprehensive China-US relations for the 21st century. The visit was also of great significance in helping to realize strong, sustainable and balanced global growth.
Related stories
Editor:Yang Jie |Source: CNTV.CN