Watch Video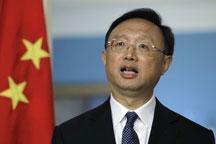 Play Video
Chinese Foreign Minister, Yang Jiechi accompanied the president during the visit. He spoke highly of the tour and said it has achieved great results, with far-reaching influence.
Yang said President Hu's visit coincides with the 40th anniversary of Sino-US diplomatic ties. It also marks a major event as China begins its 12th five-year-plan.
According to Yang, the visit sets the tone for future development of relations, and that it has enhanced the two countries' mutual trust, promoted their cooperation in various fields, and expanded cultural exchange and cooperation between the people and local governments.
Through the visit, the two countries have built up their understanding and communication in handling major regional and global issues. Yang said the visit has ushered in a new era for China-US partnership.
Hu's fruitful visit opens new chapter of China-U.S. cooperation: foreign minister
BEIJING, Jan. 22 (Xinhua) -- Chinese President Hu Jintao's latest state visit to the United States bore rich fruit and opened a new chapter of cooperation between the two countries, Foreign Minister Yang Jiechi said Saturday. <Full story>
Editor:Zhang Pengfei |Source: CNTV.CN