Watch Video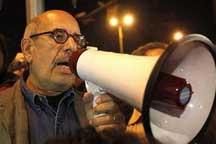 Play Video
The former head of the UN Nuclear Energy Agency, Mohamed ElBaradei, has returned to his home country and emerged as a leading figure advocating for transition.
He's addressed thousands of protesters in Cairo's Tahrir Square, saying what has begun in Egypt can't go back.
This information has just come in about the gathering of protesters at Tahrir Square on Sunday night. According to BBC reports, Egyptian army troops fired back at attackers shooting protesters. We'll keep you updated on the latest developments in Egypt.
The Nobel Peace Laureate created a stir at Tahrir Square on Sunday night. Protestors had defied a night-time curfew, and hope ElBaradei's international reputation can lend some weight to their demand for change. ElBaradei said he stands firmly with them.
Mohamed ElBaradei, Opposition Leader, said, "As we mentioned before we have an essential demand, we will start a new phase, a new Egypt where every Egyptian will live in freedom and dignity."
Since leaving his post as the director-general of the International Atomic Energy Agency last year, ElBaradei has focused on introducing political reforms to his home country. Protestors have anticipated his return since the political crisis erupted. ElBaradei told ABC's This Week that reforms are in the interests of the Egyptian people.
Mohamed ElBaradei, Opposition Leader, said, "We have to have a government of national salvation in coordination with the army, so that the people and the army will get together, go for a transitional period where then we prepare for a free and fair election, a new constitution and then move onto a democracy."
ElBaradei has repeatedly said it's not enough that President Hosni Mubarak has picked a vice president and new Prime Minister. He's calling for world leaders to side with the Egyptian people and support Egypt in a smooth transition.
Related stories
Editor:Zhang Pengfei |Source: CNTV.CN