Watch Video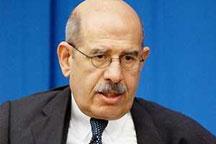 Play Video
And now let's find out more about Mohamed ElBaradei.
ElBaradei was born in Cairo in 1942. When he was 35, he received his PhD in international law at the New York University School of Law. His diplomatic career began in 1964 in the Ministry of External Affairs, where he served in the Permanent Missions of Egypt to the United Nations in New York, and in Geneva.
In 1984, ElBaradei became a senior staff member of the International Atomic Energy Agency Secretariat, and in 1997 began serving as the agency's Director General in Vienna.
He was re-elected for two more four-year terms in 2001 and 2005. His tenure was marked by high profile non-proliferation issues including the inspections in Iraq preceding the 2003 invasion, and tensions over the nuclear program of Iran.
In 2005, ElBaradei and the IAEA were announced as joint recipients of the Nobel Peace Prize. On January 27th, ElBaradei returned to Egypt from Vienna, and declared that he was ready to lead a transitional government.
Related stories
Editor:Zhang Pengfei |Source: CNTV.CN