Watch Video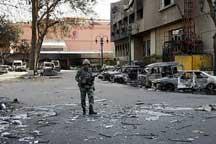 Play Video
With unprecedented numbers of protestors on the streets calling for President Hosni Mubarak to resign, lack of security has become a key concern in the country.
Swooping low over Cairo, fighter jets seek to control looting, armed robbery and protestors.
Minutes before the start of the curfew, at least two jets made multiple passes over the downtown, where thousands of protesters have gathered for nearly a week to demand the end of the administration.
But it has done little to put off protests.
Large crowds still fill the city's central Tahrir square in defiance of the government curfew.
They are keeping up pressure on the president.
Protester in Cairo, said, "No one is afraid of the curfew, we have been afraid for 30 years and no-one is afraid now. We want freedom, we want to be free to elect a president, a real president that can really take this country forward."
After days of escalating chaos, several jails across the country were attacked by gangs of armed men. Reports said around five-thousand prisoners have broken out of jail.
To hunt the escaped prisoners, the army has deployed hundreds more troops and armored vehicles in the past two days.
Editor:Zhang Pengfei |Source: CNTV.CN