Watch Video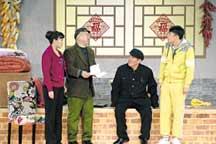 Play Video
New forms of entertainment are undermining the established tradition of watching CCTV Spring Festival Gala on the New Year's Eve. First held in 1983, the most watched variety show on the Lunar New Year's Eve is facing an increasingly diversified audience, who have their own ideas about how to spend the evening. Zhang Nini finds out how the director is coping with the situation, and how the gala is improving to meet escalating challenges.
Each year, CCTV puts on a wealth of newly composed dances, award winning acrobatic shows, original cross talks and short sketches for millions of Chinese nationwide.
It's pageantry that aims to entertain everyone, but not all people are enjoying it. New forms of entertainment are diluting its audience. The younger generation in particular may chose to go to Karaoki, play cards, or surf the web, a phenomenon that can also be interpreted as a stimulus.
Chen Linchun, director of CCTV 2010 Spring Festival Gala said, "We now enjoy a myriad of options, and TV is no longer the dominating medium. No wonder such phenomenon will appear. But instead of agitating over the loss of our audience, we should be focusing on the quality of our show and try to pull them back into the gala."
The 2011 gala has come up with various ways to accomplish the task.
As a platform much coveted by those hoping to become stars, the gala has prompted many lesser known faces to nationwide recognition.
Ren Yueli will be among the lucky few. Previously scraping out a living in an underground passageway in downtown Beijing, Ren appears in a section of the Gala dedicating to grassroots culture.
Singer Ren Yueli said, "I am glad that my talent as a singer is recognized. By coming here, I have realized my dream of changing my life through singing."
It takes more than fresh faces in good cross-talks and short sketches, where most of the audience is counting on a good laugh.
First and foremost, they must be close to real life and the concerns of ordinary people.
To shake things up a bit, cross talk artists He Yunwei and Li Jing are trying a bold experiment for their traditional format.
Cross talk artist Li Jing said, "Our show 'Exclusive Recording' is an expansion of cross-talk. We are still wearing the traditional costumes, but it will be a new experience for everyone."
Ethnic singing and dancing is an indispensable part of the live broadcast. This year, the casting has ventured to five autonomous regions in the country's north and west for inspiration. So herdsmen and farmers from plateaus and mountainous regions have been invited to the CCTV stage.
The new talents are joining gala regulars such as Song Zuying, Feng Gong, Cai Ming, Jiang Kun and Zhao Benshan for a show that aims to please different age groups with a variety of tastes.
Director Chen Linchun acknowledged that it's impossible to make a show liked by everyone, but the casting always strives for the best.
Chen Linchun, director of CCTV 2011 Spring Festival Gala, said, "With so much attention from the society, the challenge is undoubtedly huge. We are in a era where information travels very fast, every flaw of the gala could be disposed in the public eye. This has given us tremendous pressure, but we must work within the conventions and try to make a perfect show."
Spring Festival Gala is now in its 28th year. And for every edition, the directors have come up with fresh ideas to innovate the show. Still, when challenged by an increasing abundance of entertainment options, and the changing taste of the audience, this show cannot possibly satisfy all demands. But for those who do look forward to it, they will be pleased to know that this show represents the persistent efforts of both directors and performers.
Related stories
Editor:Zhang Ning |Source: CNTV.CN