Watch Video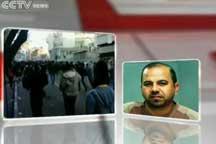 Play Video
For more on the demonstrations in Iran, we're joined on the line by Ghanbar Naderi, journalist and columnist from the Iran Daily in Tehran. Hello, Mr. Ghanbar.
Q1: How are things looking in Iran right now, are there any new demonstrations, and what are main demands of the protesters?
Q2: How do you see things shaping up over the coming days, and the impact of the unrest on Iranian politics?
Iranians hold protest against opposition
A group of hardline Iranians, including students and clerics, have taken to the streets of the nation's capital, a day after clashes between opposition protesters and security forces left two people dead, and dozens injured. <Full story>
Editor:Zhang Pengfei |Source: CNTV.CN