Watch Video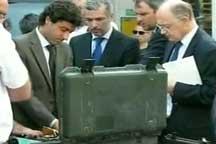 Play Video
The United States and Argentina are embroiled in a diplomatic row over the alleged shipment of weapons and drugs into Buenos Aires.
The cargo of a US Air Force plane was seized at Buenos Aires's international airport on Thursday. Customs officers said that the unauthorized items included drugs, weapons and devices for intercepting communications.
Argentine Cabinet Chief, Alberto Fernandez, detailed the contents of the confiscated cargo.
Alberto Fernandez, Argentine Cabinet Chief, said, "There were weapons. There were doses of morphine. There were materials to intercept communications. There were other unlisted items including expired medicines destined for the US embassy. Argentina has specific customs laws that have not been adhered to by the US."
Washington denies any wrongdoing and says the plane's contents had been given prior approval.
However, the Argentine Foreign Ministry argues that the list of items provided by the US beforehand did not match the material on board.
The ministry stressed that the country's laws had to be followed by all, without exceptions.
The US for its part has said the equipment was to be used in a police training course for Argentine special forces.
Washington added that the materials were typical for such a course, which has now been cancelled by Argentina following its formal complaint.
Editor:Zhang Pengfei |Source: CNTV.CN