Watch Video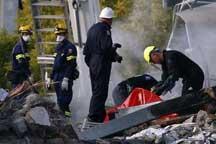 Play Video
The official death toll from the Christchurch earthquake has risen to 123. As time runs out, foreign crews and diplomats still hold out hope that survivors will be found.
Five days have passed, and 10 more bodies had been discovered.
A multinational victim identification team is now operating in earnest.
Dave Cliff, NZ Police Superintendent, said, "The programs we are using and the computers that have been installed represent world's best practice. They are working as quickly as they can to identify loved ones so that we can release them to their families as soon as humanly possible."
Many of those involved in the search and rescue operations are still hopeful of finding survivors. Their spirits were lifted with the arrival of help from the Australian police and doctors who have set up makeshift medical centers, as well as rescue teams from China, the US and the UK.
The mayor of Christchurch says he still hopes survivors would be found, but acknowledged that families of the dead also needed to be reunited with their family members.
Bob Parker, Christchurch Lord Mayor, said, "Everybody believes there are people we will find alive and that is not the only motivation because there are people that we won't find alive that we need to bring back to families. We need to rescue that story of that family of that person to give them some peace."
Continuing aftershocks and rain are hampering rescue efforts but the aftershocks are becoming less frequent and lowering in magnitude.
Eighty percent of the city has now had power restored and more than half has water. Engineers say that up to a third of the buildings are prone to collapse and should be demolished. The damage bill has been estimated at 7-and-a-half million US dollars.
Editor:Zhang Pengfei |Source: CNTV.CN