Watch Video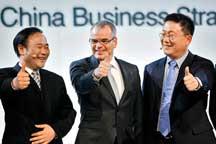 Play Video
China's Geely-owned Volvo has announced it will invest up to 11 billion US dollars into new product development and facilities over the next five years.
Li Shufu, Gelly Chairman, said, "From now, we will continue to stick to the strict principle that Geely belongs to Geely, and Volvo belongs to Volvo. We will put Volvo back in place and continue to promote its leading role in the field of environmental and safety features."
As part of the plan, two Volvo manufacturing bases will be built in the Southwest China city of Chengdu and Northeast China city of Daqing. The company aims to sell 200 thousand cars in China by 2015, a fifth of the Chinese luxury car market.
The business expansion plan has been endorsed by Volvo's board of directors and is subject to approval by the Chinese government.
The Swedish automaker announced the establishment of its Chinese headquarters with a technology center in Shanghai last month. Volvo was taken over in August last year by Geely for 1.8 billion US dollars. The Swedish brand's global sales last year topped 11 percent.