Watch Video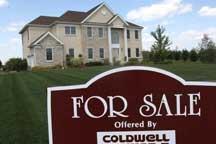 Play Video
According to US National Association of Realtors, sales of existing US homes rose by 2.7 percent in January. But prices have fallen to their lowest in nearly nine years. And of those January sales, more than a third were for foreclosed properties.
This property in New Rochelle, New York needs a buyer. But this 4 bedroom home, priced at $699,000, has a lot of competition, even down the street.
That's the problem for home sellers as the industry gets ready for the key spring selling season. While sales of previously owned homes surprisingly jumped in January, the National Association of Realtors reports foreclosures and short sales accounted for a third of those transactions.
That creates a bargain for first-time home buyers and investors, but is holding back any chance of a recovery, says Jim Gillespie, CEO of Coldwell Banker Real Estate LLC:
Jim Gillespie, CEO of Coldwell Banker Real Estate Llc, said, "We need to flush through all of these foreclosures that have that have that are on the market and will be released over the year or next year once we flush through these foreclosures then we'll have a much more balanced market."
Foreclosure properties, by some estimates, are priced 15% below market value. But non-distressed properties are also feeling the price pinch. The NAR reports prices of previously owned homes hit a near nine-year low in January. And one noted market watcher predicts prices for singly-family homes could fall another 25 percent.
But Jim Gillespie contends there are some positive economic signs that could signal housing's deep freeze could start to thaw. Job creation is increasing and auto sales rose in 2010.
Jim Gillespie, said, "Retail sales last year was up 6.7%, 2010 over 2009, again happiness is a low base but at least it's heading in the right direction, household debt is the lowest it's been since 2004 household income is up. If we can just continue the slow gradual increase that's going to healthy and sustainable for the economy and the housing market."
The most important advice from Gillespie is for home sellers. Home buyers are looking for the right house - but it has to be at the right price.
Editor:Zhang Pengfei |Source: CNTV.CN