Watch Video
Play Video
The National People's Congress has just opened its annual session in the Great Hall of the People in Beijing. Nearly 3,000 national legislators are present, along with top Communist Party and state leaders. Premier Wen Jiabao delivered a report on the work of the government.
Summing up last year's achievements, the Premier says the government focused on efficiency of its macroeconomic controls and improving people's livelihood. Wen Jiabao says technology innovation and environmental protection were encouraged.
For 2011, he announced an 8 percent target for GDP growth. Regarding inflation, the CPI should be kept within 4 percent. The employment goal is 9 million job opportunities in urban areas and keeping unemployment within 4.6 percent.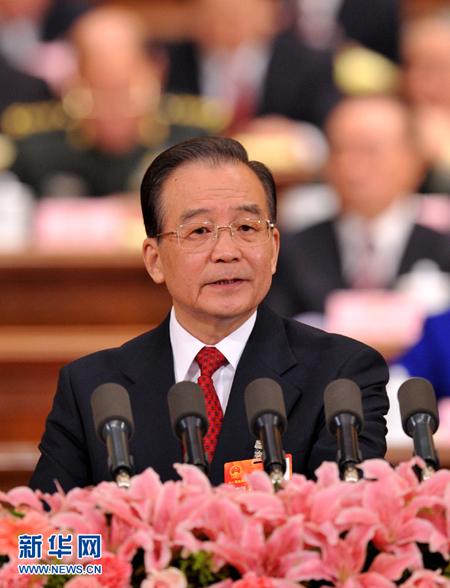 Chinese Premier Wen Jiabao delivers a government work report during the
opening meeting of the Fourth Session of the 11th National People's
Congress (NPC) at the Great Hall of the People in Beijing, capital of
China, March 5, 2011. (Xinhua/Huang Jingwen)
Wen Jiabao called the 12th Five-Year Program, which starts this year,a pivotal period in building of a well-off society. He set the annual economic GDP growth rate to 7 percent on average. Other priorities are stable prices and other issues related to public welfare, such as education and medical care.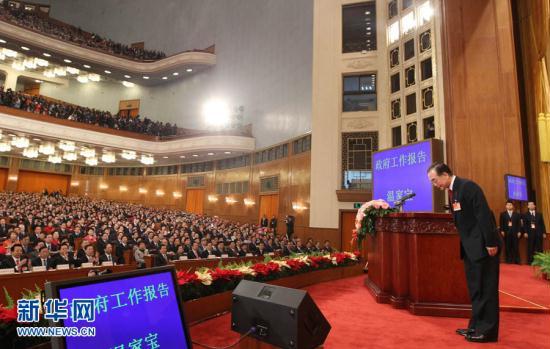 Chinese Premier Wen Jiabao (1st R) bows to all the deputies prior to delivering a
government work report during the opening meeting of the Fourth Session of the 11th
National People's Congress (NPC) at the Great Hall of the People in Beijing, capital of
China, March 5, 2011. (Xinhua/Lan Hongguang)